Amigo Loans
Restoring page 1 of Google search results visibility for the term "guarantor loans"
Campaign Highlights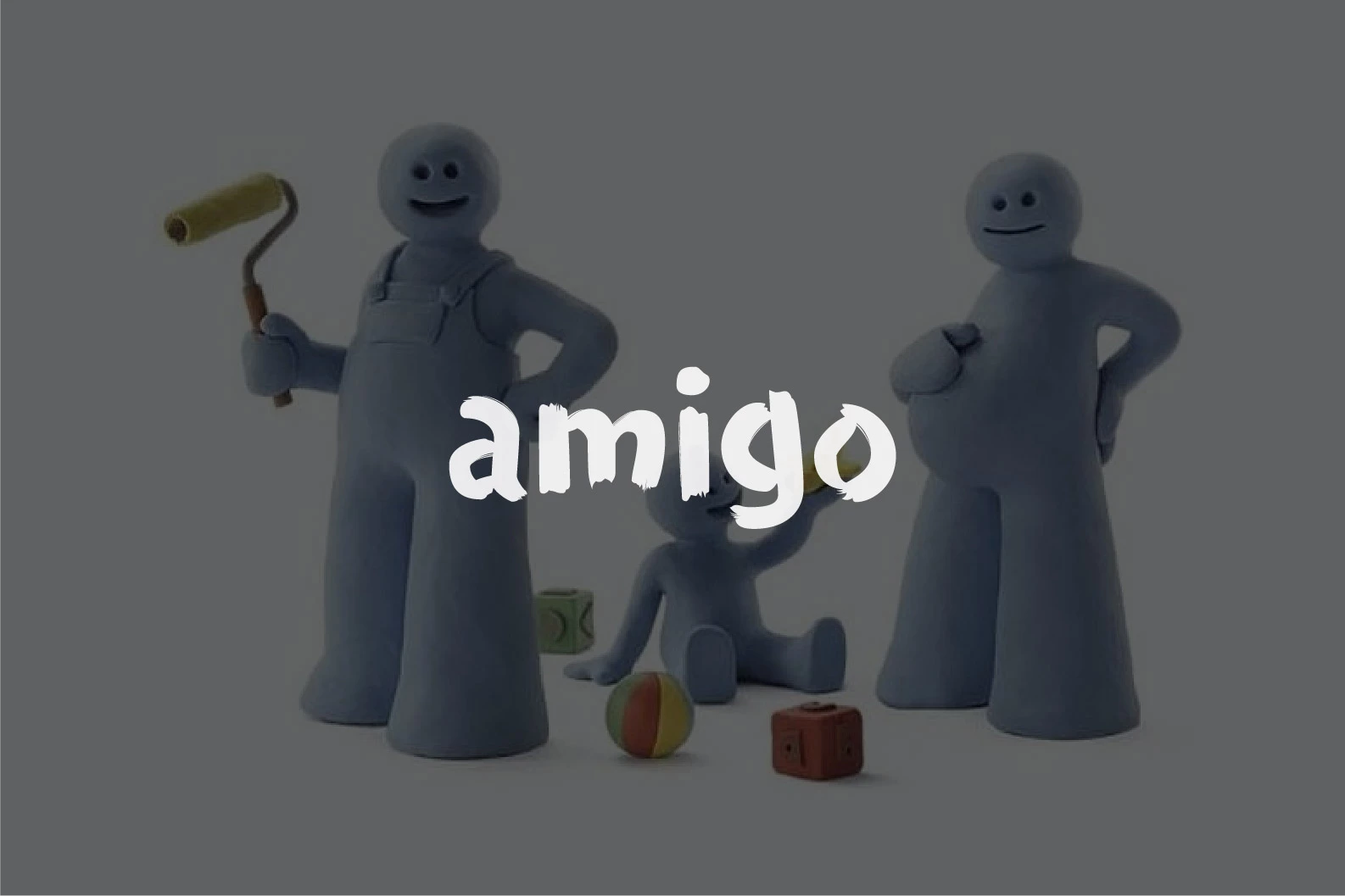 Overview
Amigo Loans are the UK's largest guarantor loan company. When they approached Go Up, the aim was to see their leading status reflected in Google's organic search results. Specifically, they wanted to rank on the first page of search results for the keyword "guarantor loans" The website had previously seen page 1 visibility several years before, but had since been languishing on page 2 and beyond.
---
The Solution
We recognised the Amigo Loans SEO campaign would require several key focal elements and that each would need its own unique evaluation and optimisation:
These inputs, which had sitewide implications, provided a profound reminder: With SEO, the whole is greater than the sum of its parts. Though we were looking at improving the ranking for one keyword, that didn't mean just focusing the campaign on one keyword, nor one page.
Technical: Although the Amigo Loans site wasn't beset with technical issues, there were factors that made the site unnecessarily ambiguous to Google.
Content optimisation: The Amigo Loans site we inherited had a rich body of content to work with, but it was scattered across the site in a non-cohesive and unhelpful way.
YMYL/ EAT optimisation: Perhaps the most important aspect of our collaboration with Amigo Loans was YMYL/ EAT optimisation. We knew that we were operating in one of the most closely scrutinised areas of Google's algorithm and that the site had to more than leap the hurdle for any potential quality rater passing by.
Technical
Initially, we focused on solving technical and content-based problems that would be preventing Google and other search engines from understanding the site as clearly as possible. Ranking chiefly among these problems was the identity of a best-fit page for the keyword "guarantor loans". Using our favourite historical rankings tool, we could see Google was switching between two URLs. That meant choosing one and ensuring that it was the best page for that term, through baking it into the site's structure and information architecture, as well as content optimisation.
Content Optimisation
While our content optimisation efforts saw a tightening of keyword targeting in favour of our campaign objective, the bigger undertaking was revolutionising the site's enormous body of informational content. Though it may sound counterintuitive, our route to success was not just through the guarantor loans landing page – it was through everything around it. We understood the site was unlikely to rank favourably for its target term if the majority of the site was noticeably lacking in quality when compared to the pages which were "supposed to rank".
Amigo Loans had amassed a body of informational guarantor loans relevant content which was both hard to find and thin. This informational content comprised the majority of URLs on the website. In other words, crucial information about guarantor loans was split between a handful of useful pages and scores of pages which were not useful but should have been.
With a detailed pruning exercise we created a plan on pages to improve, merge and remove. This resulted in a dramatically reduced number of URLs and the creation of useful pages which were then made a fundamental part of the website's navigation.
YMYL/ EAT
YMYL stands for "Your Money or Your Life" and it is used to describe websites that are important enough that, were they low-quality, they could have a potential negative impact on a person's life in a significant way. Google has confirmed that for YMYL queries, they will pay more attention to expertise, authority and trust (E-A-T).
With Amigo Loans, and the term "guarantor loans" in particular, we knew these factors needed to inform our activities. Our process to improve the site's trustworthiness saw a mix of competitor and customer research. Regarding the former, where did they place their important information, from contact information to interest rates? Regarding the latter, what are the core concerns of the user and does the site adequately meet those needs in the most accessible and helpful way possible?
---
The Results
Following the gradual introduction of our optimisation in June 2019, the Amigo Loans site started to see improving rankings. There was a jump to position 5 in September 2019 which we took to be a sign that we were on the right track. In April 2020, Amigo Loans returned to page 1 of Google search results. And a year after we had started rolling out our strategy, they were in position 2.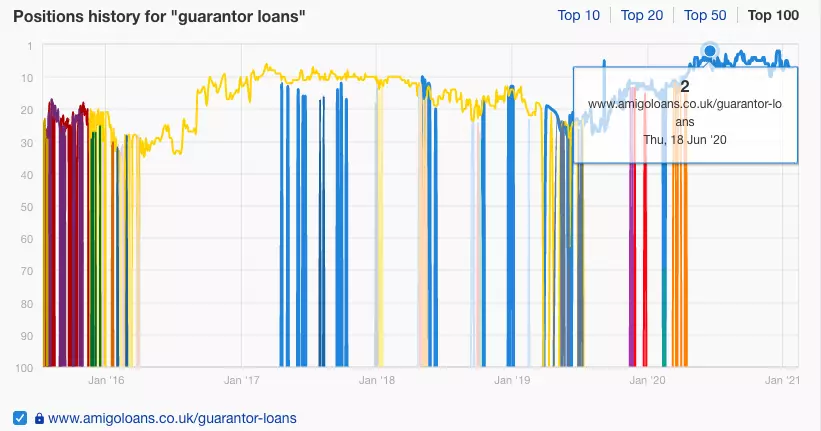 Call or send us an email today and we'll discuss how you could become our next success story.
Testimonials
"Go Up has been proven to be a valuable and capable SEO partner. Since the commencement of the campaign we have experienced a steady growth in our organic traffic in the range of 17% - 20% year over year, and an equal increase in rankings for our main keywords. They offer a holistic approach ranging from content marketing to technical SEO and always go the extra mile to deliver great results. They are highly recommended."
SEO & Content Marketing Manager
"Our partnership with Go Up was a long and successful one. Working with a like-minded, sustainable business was important to both of us, and the astronomic results of the campaign only reinforced the positive impact the agency made"
Head of Marketing & Bids
"Go Up improved our Google Search Engine visibility for competitive keywords, resulting in an increase in enquiries and sales. Their SEO service offers a mix of research, technical knowhow, UX, content marketing and online PR. A brilliant agency and highly recommended."
Recruitment Director
Let's start planning your project.
If you are interested in hearing about our services and what we can do to help your business, we would love to hear from you.