Designer Glasses
A 700% increase in online sales since the start of the SEO & Digital Marketing Campaign
Campaign Highlights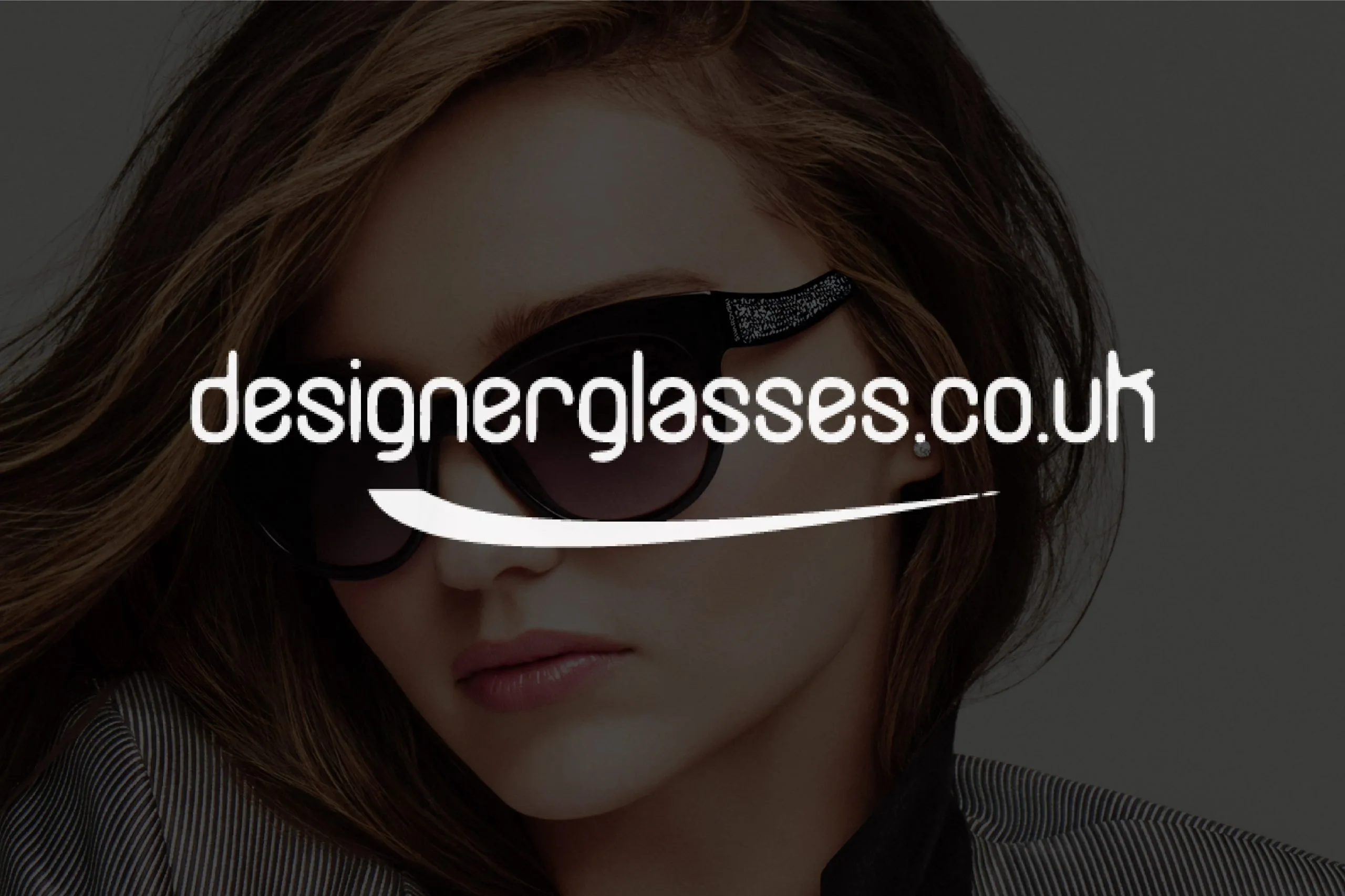 Highlights
300% increase in organic traffic since the SEO campaign started
700% increase in total sales
---
Overview
The Client
The designerglasses.co.uk website is the UK's oldest online designer glasses store. They supply their customers with an amazing range of designer glasses at the most competitive prices, backed by exceptional levels of service.
Campaign Goals
Increase non-branded organic traffic
Revert rankings back to pre-Medic levels (July 2018)
Increase brand visibility on SERP layout
---
The Challenge
Designerglasses.co.uk came to Go Up to restore their organic keyword rankings as they had been heavily impacted by Google's core "Medic" and "YMYL" updates in August 2018.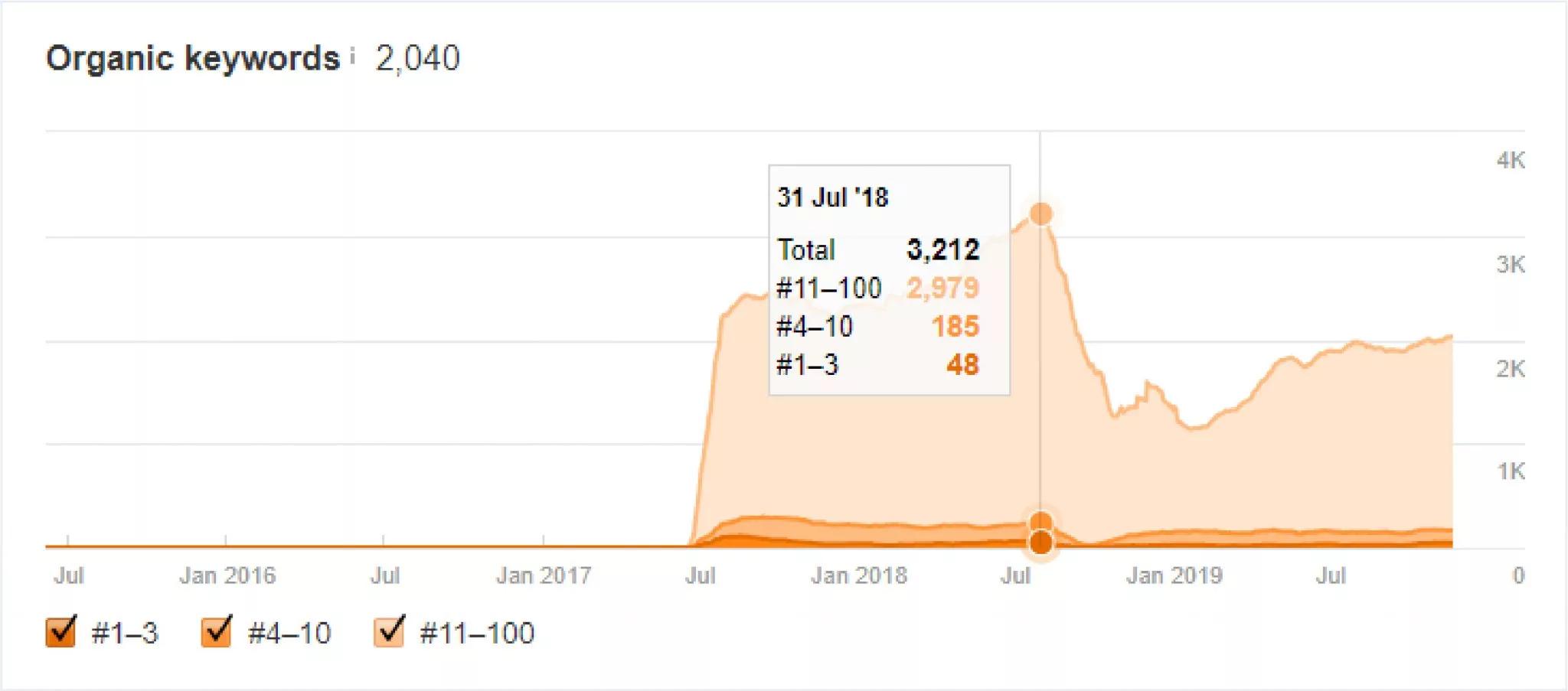 To help designerglasses.co.uk reclaim their rankings and lost organic traffic, a solution was required that would:
Regain the site's trustworthiness,
Improve the overall quality of the content on the site.
The designerglasses.co.uk website sold over 30 designer glasses brands, alongside 1000s products. The content across the brand pages was considered low quality and the product pages were heavily reliant on keyword stuffing. In addition to this, the metadata for all the brand and product pages signalled missed opportunity.
We believed that the lack of informational content and unoptimised metadata on the site was a key reason why designerglasses.co.uk had become a victim of the "Medic" and "YMYL" updates.
---
The Solution
1. Optimising the brand pages with informational content and FAQs curated by keyword research: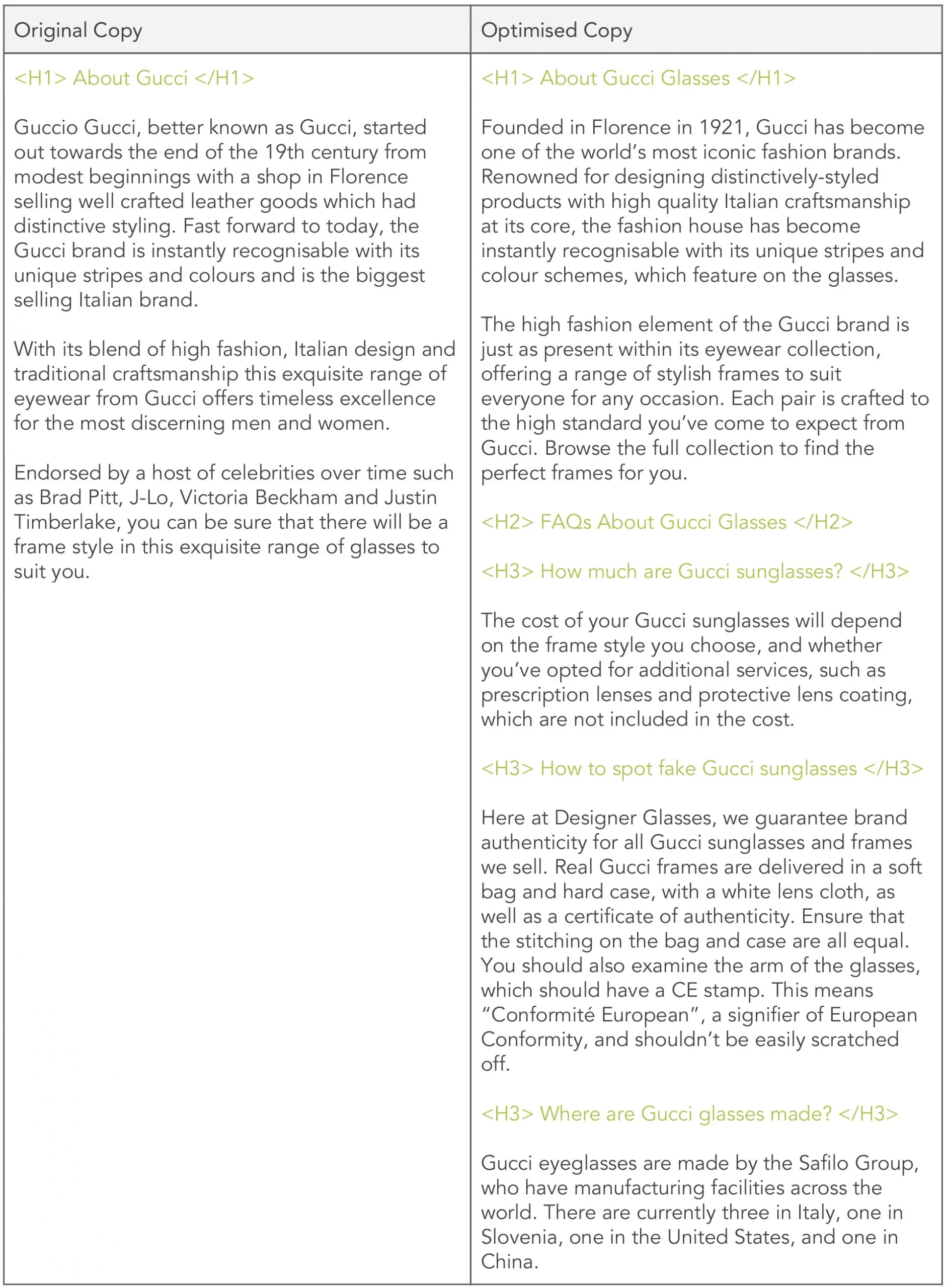 2. Marking up the brand pages with relevant schema to ensure search engines understood the purpose of the content, as well as enabling rich SERP results:

3. Optimising the metadata for all of the products and brand pages in a phase by phase approach: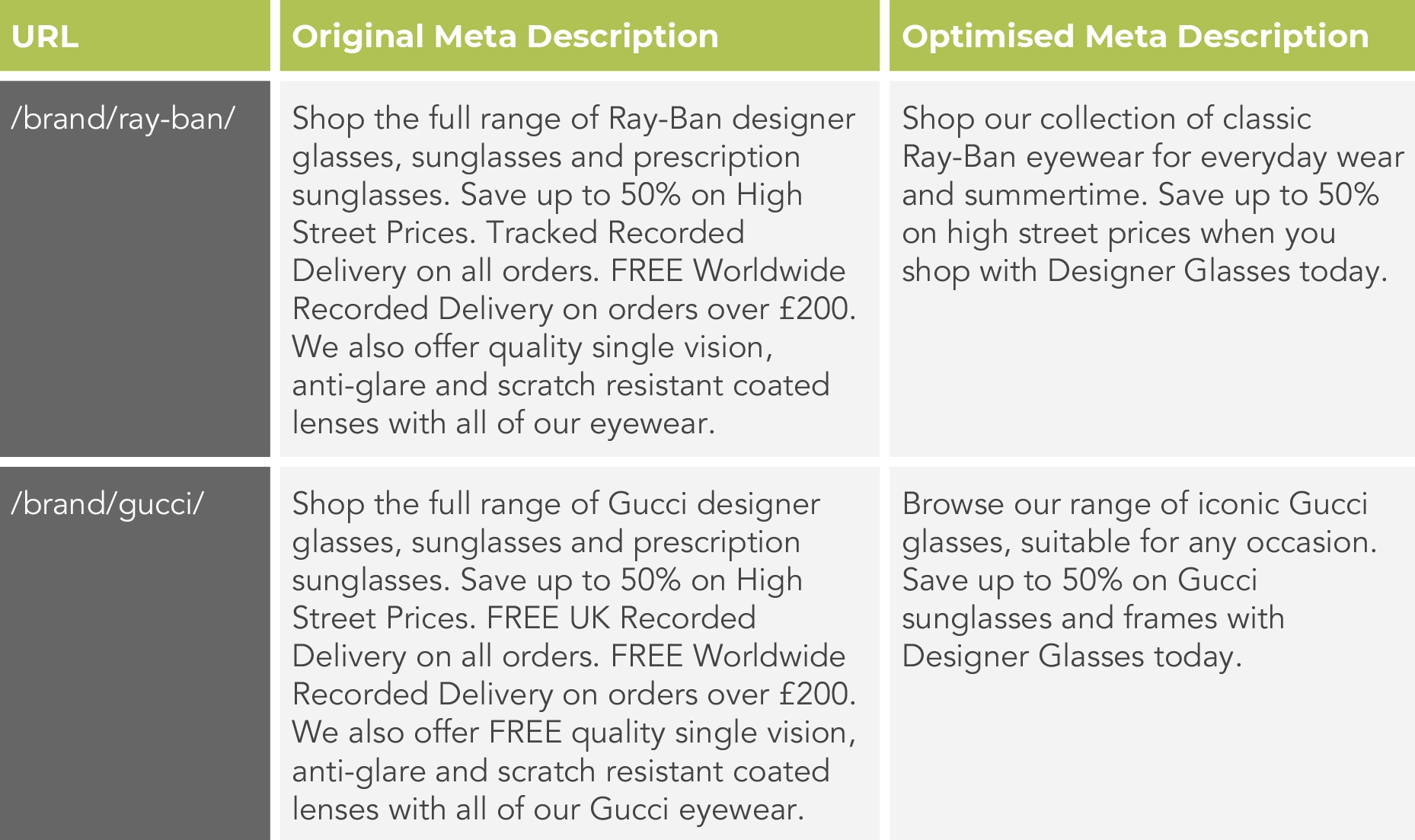 4. Creating an onsite blog content plan driven by keyword research to ensure that the site is part of relevant, traffic-driving discussions.
5. Creating concepts for high-quality backlinks to point towards key areas on the site.
---
The Results
The designerglasses.co.uk website had its keywords restored to pre-Medic levels within 3 months of the campaign start date. The site also enjoyed an all-time high year-on-year increase of 300% in organic traffic and most importantly, recorded a 700% increase in sales.
Organic keywords: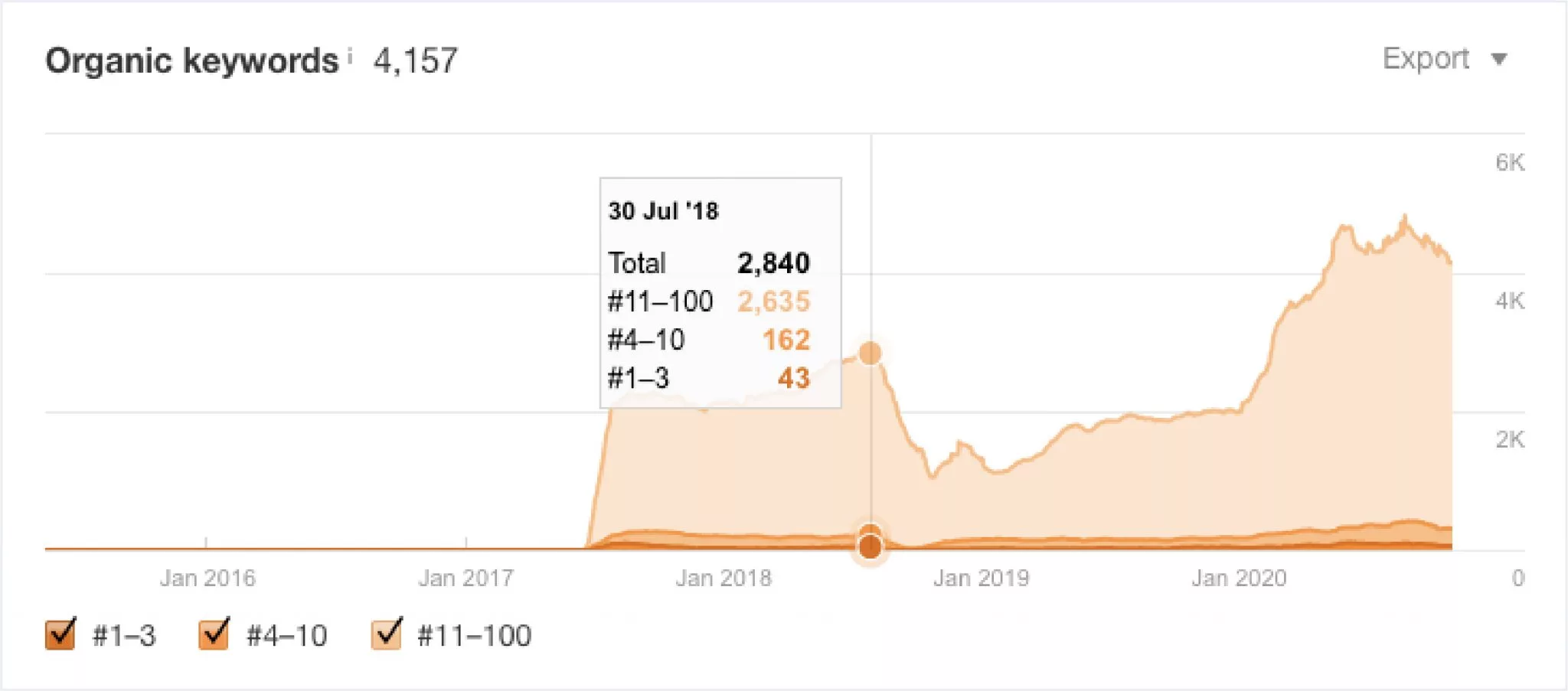 Organic rankings snapshot: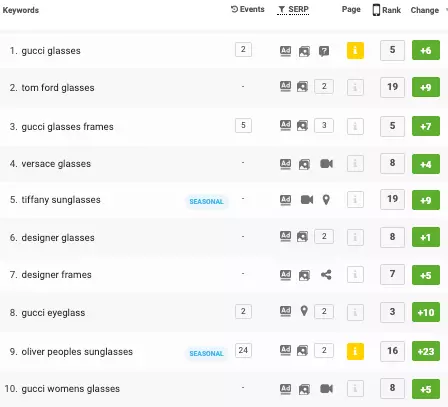 Call or send us an email today and we'll discuss how you could become our next success story.
Testimonials
"At the end of 2018 our organic rankings fell off a cliff. I looked around and spoke to Go Up, who took a couple of days to assess the website. They identified the problem and believed that they could fix it. Within 3 months the site was back to its previous best levels. Since then, both traffic and sales have improved substantially: Organic traffic is up 300% from its previous best point, and sales are up by a multiple of 7 since our previous best. They have been excellent all the way through."
Founding Partner
Let's start planning your project.
If you are interested in hearing about our services and what we can do to help your business, we would love to hear from you.