Hackett London
60% increase in YOY organic revenue, and highest ever number of ranking keywords
Campaign highlights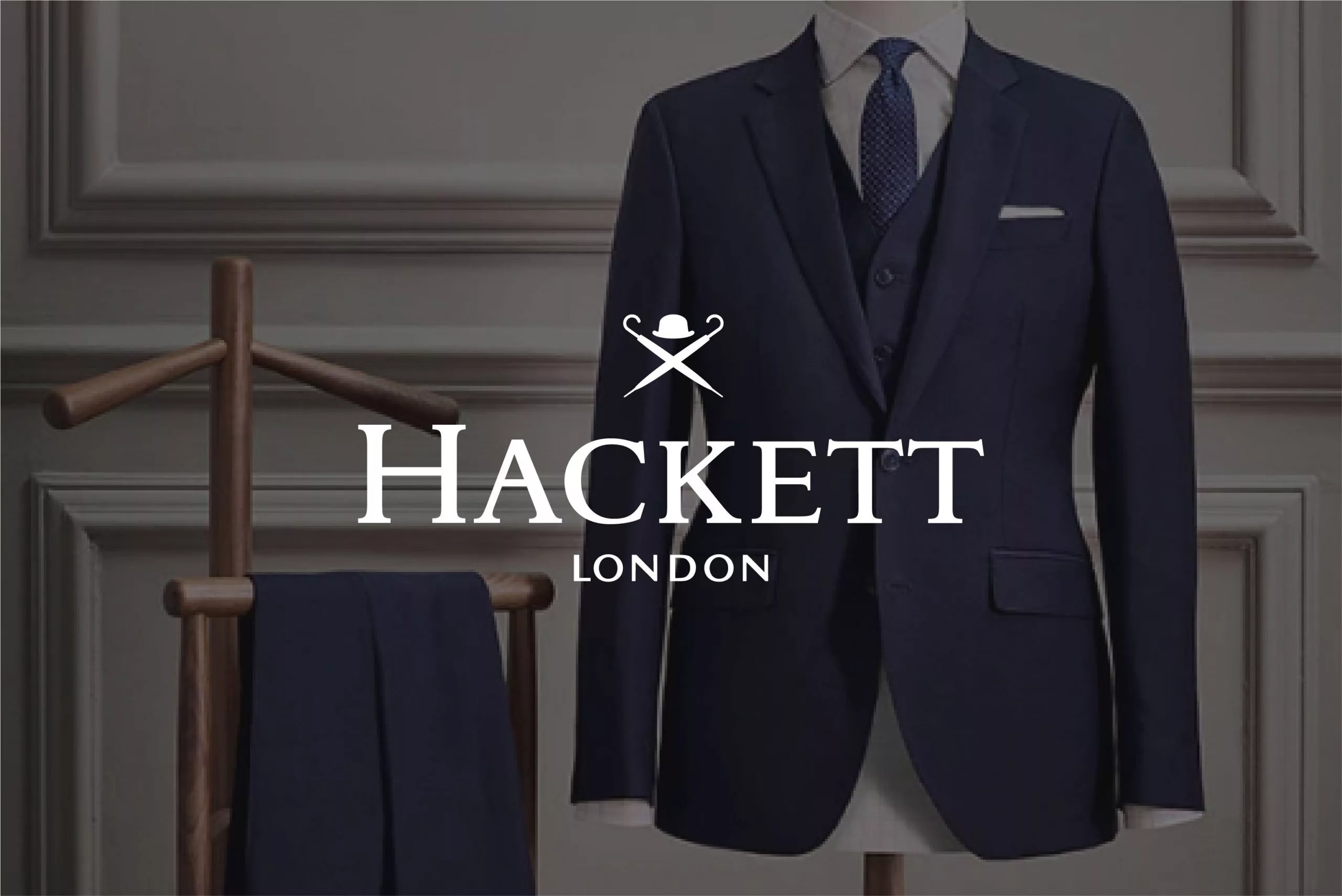 Highlights
59.97% increase in YOY organic revenue
87.87% increase in number of ranking keywords
---
The Challenge
Hackett approached Go Up in November 2018 asking for help with a major e-commerce platform migration. Aware of the risks associated with such a move, they wanted to do everything within their power to retain existing visibility, whilst simultaneously putting plans in place to improve their longer term organic ranking prospects. We set about creating a plan to do just that.
The challenges we faced with such a brief were significant. Why?
It's a huge, international site
At the end of 2018 the website had over 1 million URLs spread across five different locales.
It's e-commerce
Due to the high number of products, the site contained lots of repetitive copy, internal duplication issues and keyword cannibalisation.
It's as competitive as it gets
Hackett's clothing niche is extremely competitive and they are up against a large volume of Google ads and higher authority domains.
We inherited a site with significant technical debt
We needed to clean up the majority of redirections and other technical errors affecting the site before we could even think about the migration and beyond.
We had to move quickly
The migration date was set for six months after campaign commencement. Before then we had to both plan the migration and deliver ranking and traffic improvements whilst still on their old e-commerce platform.
The Solution
We first assessed the site from two main perspectives: technical-based and content-based. This meant we could investigate how to improve the site immediately (technical) and also create a long-term strategy with the migration in mind (content).
Technical
Go Up identified many issues that were affecting the health of the Hackett website and had to take action in a number of respects before they could successfully migrate. This included:
Speed tests
4xx errors
3xx redirects
Mobile issues
HTML Code errors
Sitemap and Robots.txt optimisation
In addition to these tasks, we also examined the following areas and made numerous technical fixes to improve the condition of the site.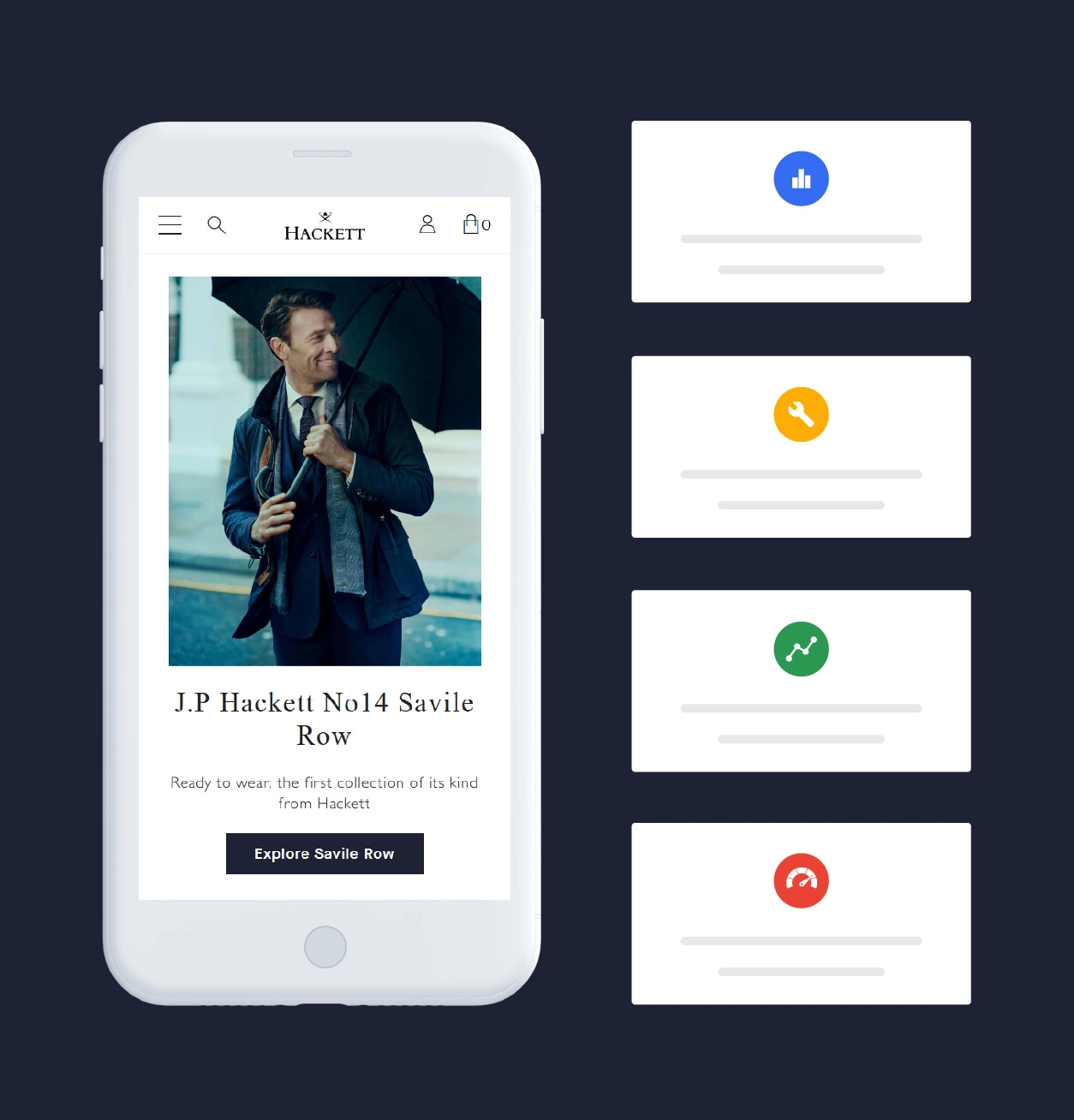 Crawl Budget
Search engines can't crawl a site efficiently if it is wasting its crawl budget. As precious time will be spent on unimportant parts of the site, this can mean valuable parts of your website are left undiscovered.
One of the biggest issues immediately spotted by Go Up was Hackett's crawl waste—for example, test pages were being crawled unnecessarily. In response, we optimised the sitemap and robots.txt, and conducted a log-file analysis to see which parts of Hackett's site search engine crawlers were reaching. After delivering a number of other technical fixes, we were able to direct those bots to the most valuable pages on Hackett's website.
Hreflang Tags
Another quick fix we made on the website involved the incorrect usage of Hackett's hreflang tags. As an international site with global reach, it was obvious that we needed to direct the audience to the platform according to the language they spoke. The hreflang tag was already present on the website, but it was implemented incorrectly and often had non-indexable pages selected as alternatives.
Mapping URLs for migration
One of the most demanding tasks that Go Up faced was mapping all the URLs from the old site and preparing the correct redirections for the new site. We knew that the URLs would change due to the differences in the architecture of each CMS. All the URLs except the home page had to change.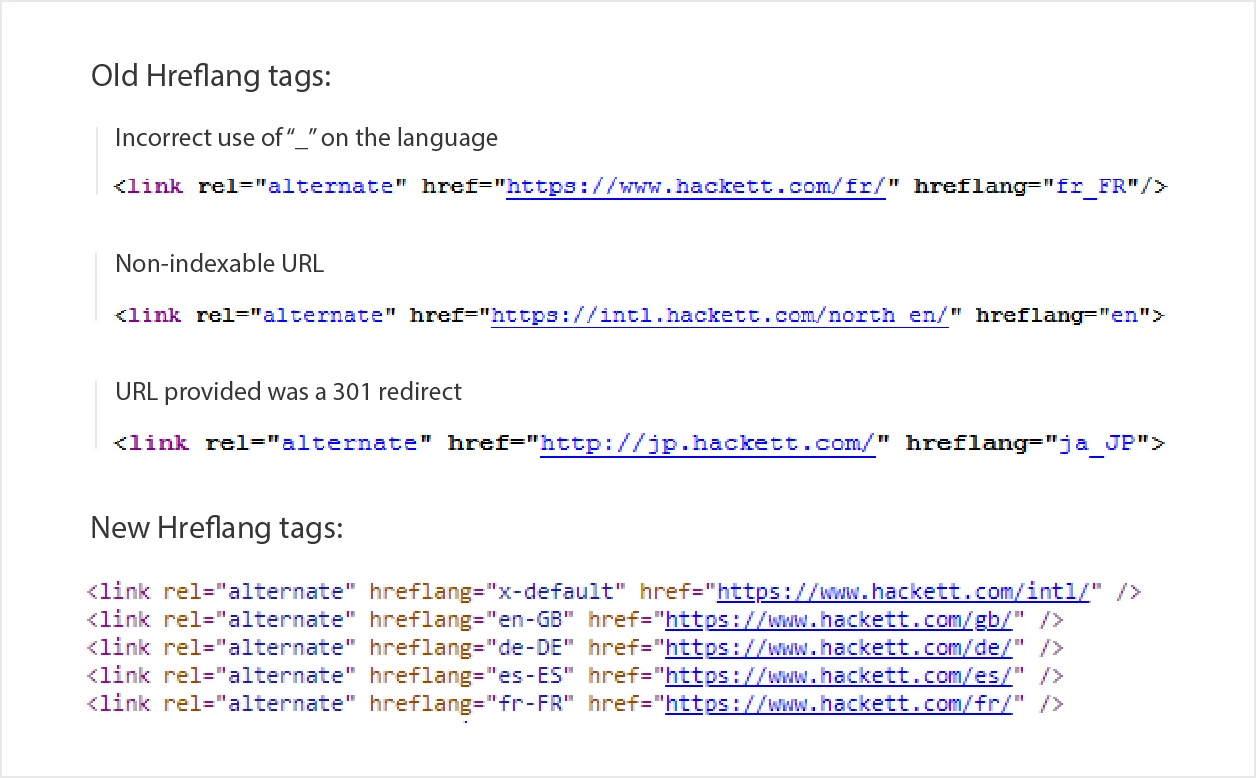 Content
Metadata
We reviewed and optimised all Hackett's metadata, improving both page titles and meta descriptions. This new, unique metadata emphasised the range and quality of Hackett's products, highlighted the benefits of its delivery service and targeted the relevant keywords. We also arranged for all metadata to be translated into Hackett's other locales—French, German and Spanish.
Category Copy
In preparation for Hackett's site migration, the Go Up content team wrote copy to be added to each of the category pages such as "blazers" and "knitwear". Prior to this, there was little to no content on these pages aside from the products themselves. These new descriptions were optimised for the predominant keywords to boost the SEO value of every page.
The Blog
Hackett already published its own content to its blog, The Hack, and though their posts were well-written, these were not particularly aiding the website in terms of SEO.
To improve the quality of The Hack from an SEO perspective, Go Up created a content calendar full of blog concepts relevant to Hackett's products, considering keyword research and seasonality. We worked collaboratively with Hackett to write posts with a greater focus on SEO, including relevant long-tail keywords to support the site's main categories.
Heading Structure
Headings are used to provide hierarchy and clarity to a web page. This helps visitors quickly scan the content and allows search engines to understand the layout and topic. As such, we implemented a clear heading structure across the website.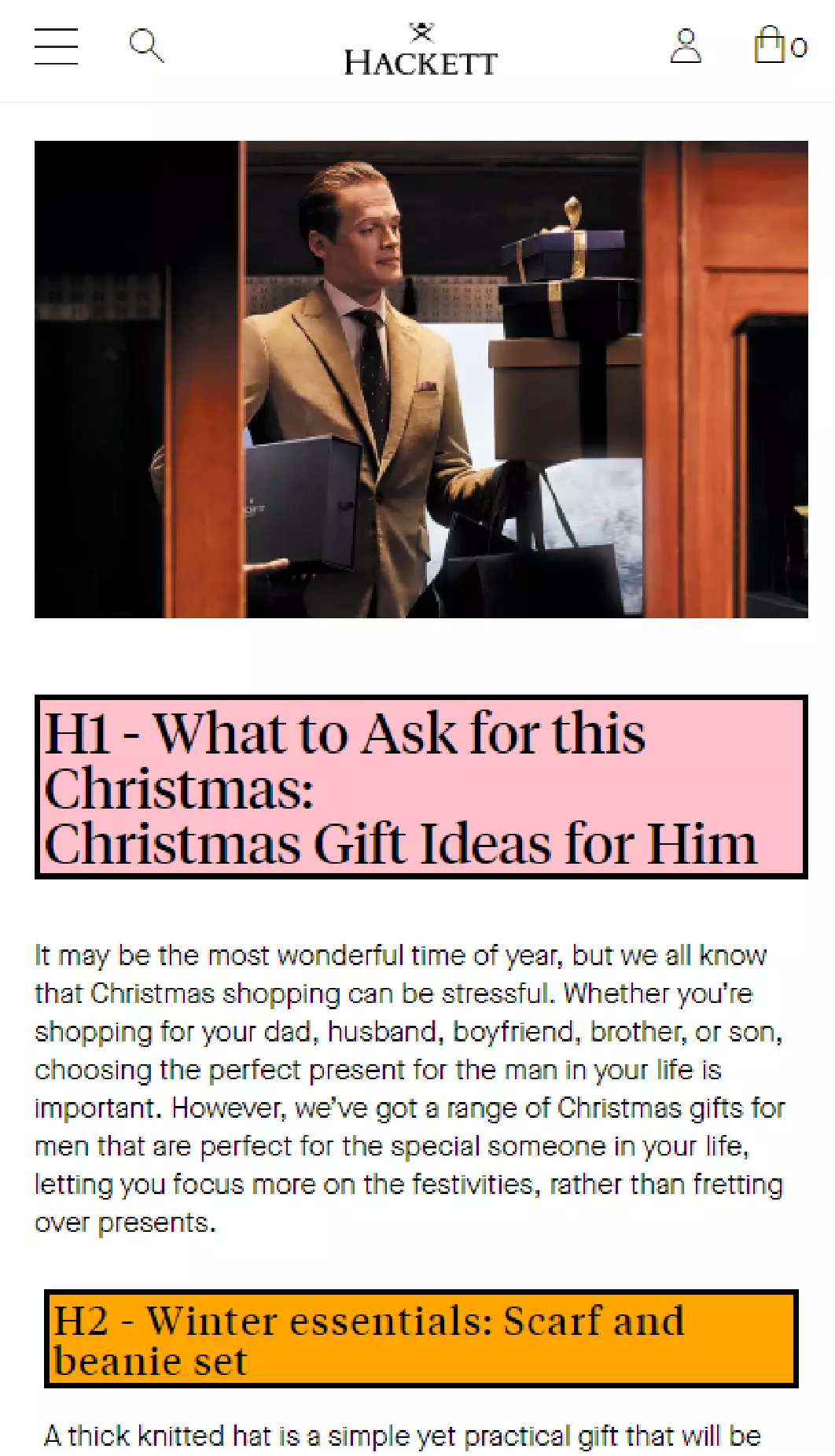 ---
The Results
Keywords:
Migration occurred on the 8th of July 2019. At the beginning of July, rankings for the Hackett website were at their peak thanks to the optimisation work we did on the site pre-migration:

There was some volatility immediately after the migration, but we had anticipated this. The changes in URL structure meant that search engines required some time to adapt to these amendments. However, four months after the migration, Hackett achieved its highest ever number of ranking keywords.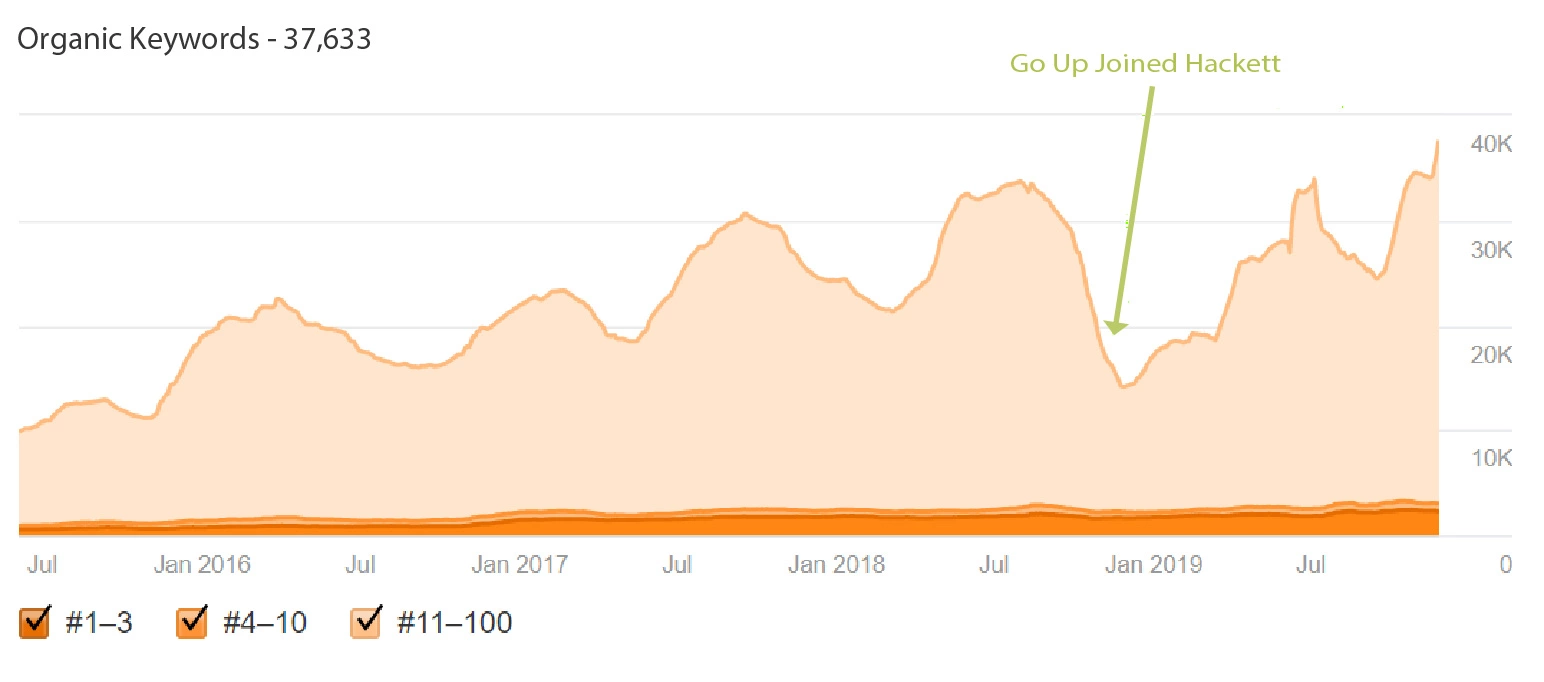 Number of Ranking Keywords:
As of 1 February 2020, Hackett's:
YOY number of ranking Keywords was up by 87.87%
YOY Keywords ranking in Position 1-3 increased 34.69%
YOY Keywords ranking in Position 4-10 increased 42.89%
YOY Keywords ranking in Position 11-100 increased 95.20%


Conversions
As of Feb 2020, Hackett's:
YOY overall revenue was up 18.63%
YOY organic revenue was up by 59.97%
YOY overall transactions increase 46%
YOY organic transactions increase 69.95%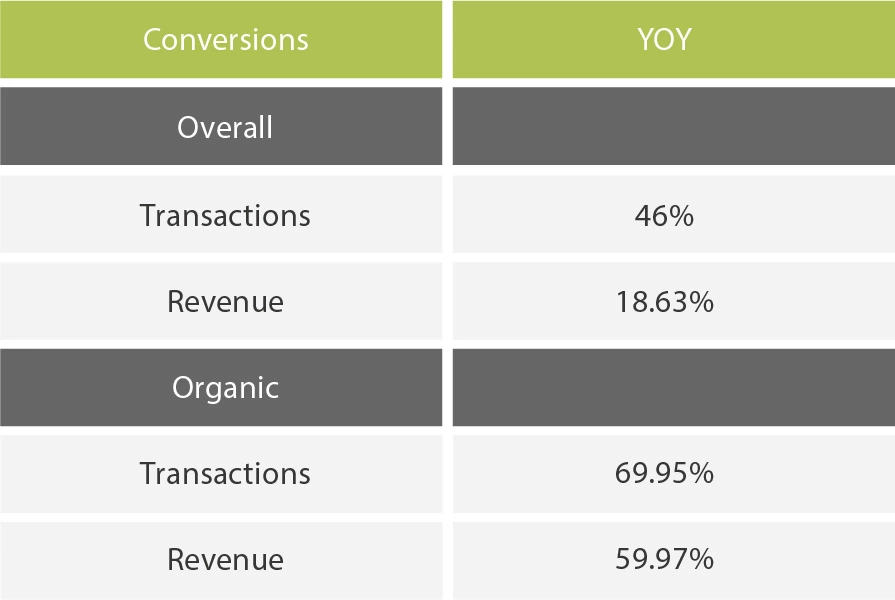 Call or send us an email today and we'll discuss how you could become our next success story.
Testimonials
"Go Up have been a vital part of the Hackett digital marketing mix, working as an extension of our team across all areas of SEO from technical fixes to writing regular content. Their SEO strategy and advice has been invaluable for us as we push organic search forwards, and they have taken on board our broader brand and content strategy in order to be aligned with our marketing goals. The team are fantastic to work with and go above and beyond to help out wherever possible."
Digital Marketing Manager
Let's start planning your project.
If you are interested in hearing about our services and what we can do to help your business, we would love to hear from you.