Novanym
Increasing Engagement and Filling a Content Gap for a Google Algorithm Recovery Campaign
Campaign Highlights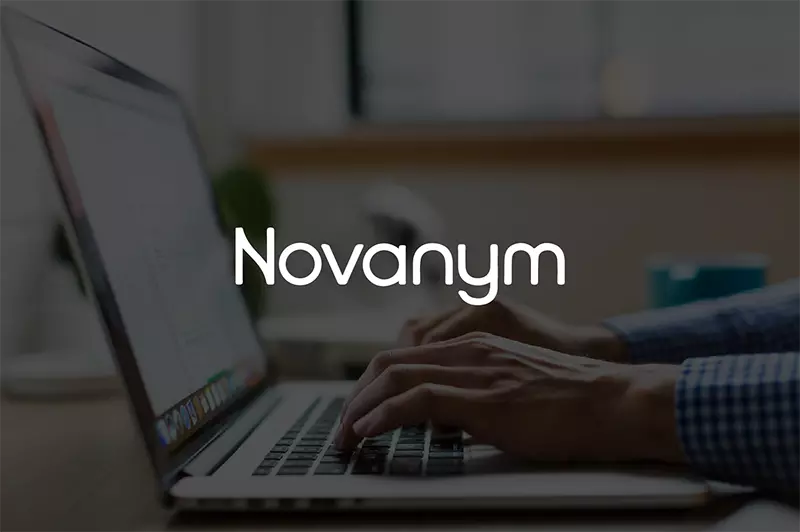 Highlights
Algorithm Update Recovery
---
The Challenge
Novanym create unique brand names that come with a matching .com domain. Unique names are hard to come by, much less their .com domain, and Novanym has the marketing, branding and creative nous to generate inventive names – and claim their matching .com – that established and prospective business owners want to invest in.
Their business had been doing well after a prior campaign with Go Up that focussed on keyword targeting for categories. But then a Google update (Florida 2) hit Novanym hard end of the third quarter of 2019.
Rankings slumped and many key converting search terms were now on page 2 and slowly slipping further. From pulling tens of thousands of organic users a day, Novanym was now receiving less than half that amount.
Novanym asked Go Up to help them understand this shift in their Google visibility. It would be a different sort of campaign. Although targeting 'xxx business name ideas' would remain the primary SEO goal, it was clear that whatever search landscape Novanym had built their success on had moved on.

---
The Solution
Key terms for Novanym had always been about the variations on 'xxx business/company names ideas' searches. This had been the crux of the category work Go Up had initially done for them.
But since the Google update the entire mantle under which these terms rested was ripped away and replaced by a new vista. The crux of this update was improving the 'latent intent' of user searches.
Essentially, Google had changed the goalposts. It now deemed the user-intention for those looking for a 'business name ideas' was, rather, a 'business name generator'. 'Generators' – rather than 'lists' – were now deemed a better 'search serving' for users seeking business names or inspiration.
What this meant was Novanym's previously steady ranking for 'business name ideas' terms was heavily impacted – they did not have an offering that matched Google's perceived user intention. The top two spots (and several spots in the top ten) for 'ideas' were now replaced by 'generators'.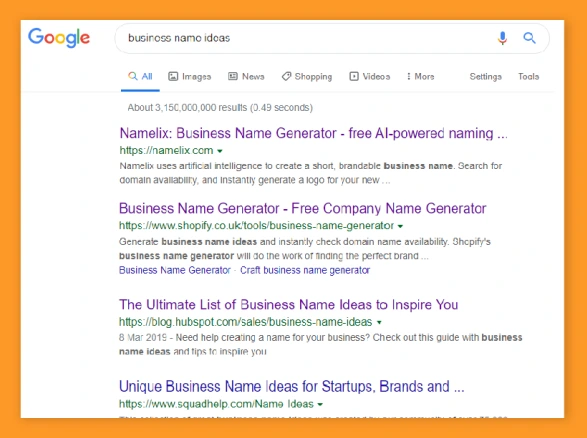 Moreover, many of the top ranking sites for 'business name generators' and 'business name ideas' (because they were almost interchangeable now) featured, unsurprisingly, a Generator Tool.
However, it must be said, many of these were not true 'generators'. In actual fact they were just search functions dressed up as generators. Nonetheless, they were ticking Google's boxes not just for the keywords related to 'generator' but also for – perhaps more importantly – user engagement metrics. Having such an 'interactive tool' above the fold like this is now a huge plus with Google Bot.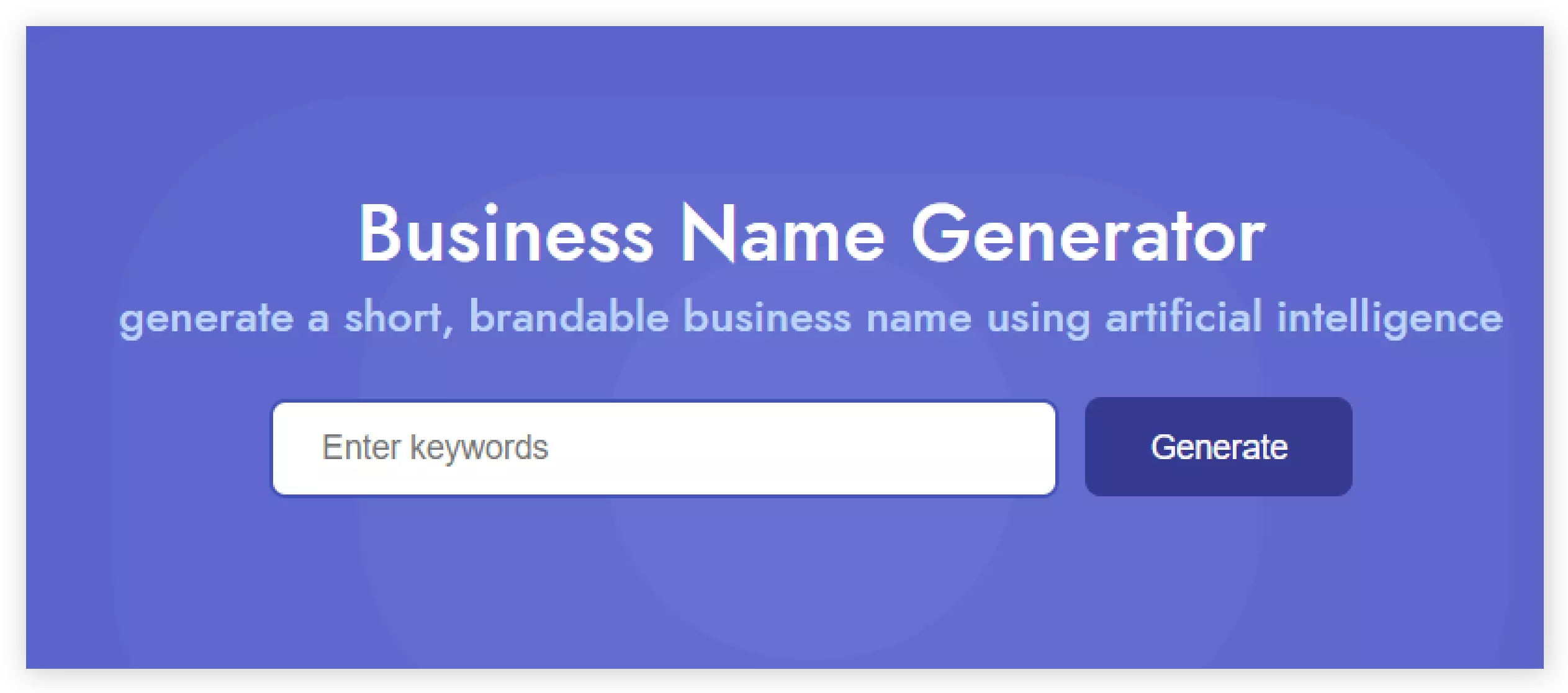 Strategy requires investigation, and the more we explored this shift in Google's understanding of what users' desired results were, the more obvious the solution became. Novanym didn't have a generator.
So in the end the solution was as simple as it was ingenious, and it rested in understanding the best reaction to a content gap: fill it and build content authority – give it bells and whistles. That meant a new page and a new feature. Project Generator was born.

---
The Results
The new page and feature was proposed to Novanym, and plans drawn up for what was vital to include here.
Although they were not happy about 'tricking' users – as they did not strictly speaking have a 'generator' – Go Up convinced them that they were simply playing catch up with competitors who were already creating such glorified search functions. And besides, in the end, Novanym as a company does generate business names. 'Business Name Generator' is also searched 135,000 times a month.
So with a clear conscious and a clearer vision, the page was drafted, approved and set loose upon Google's index. Behold.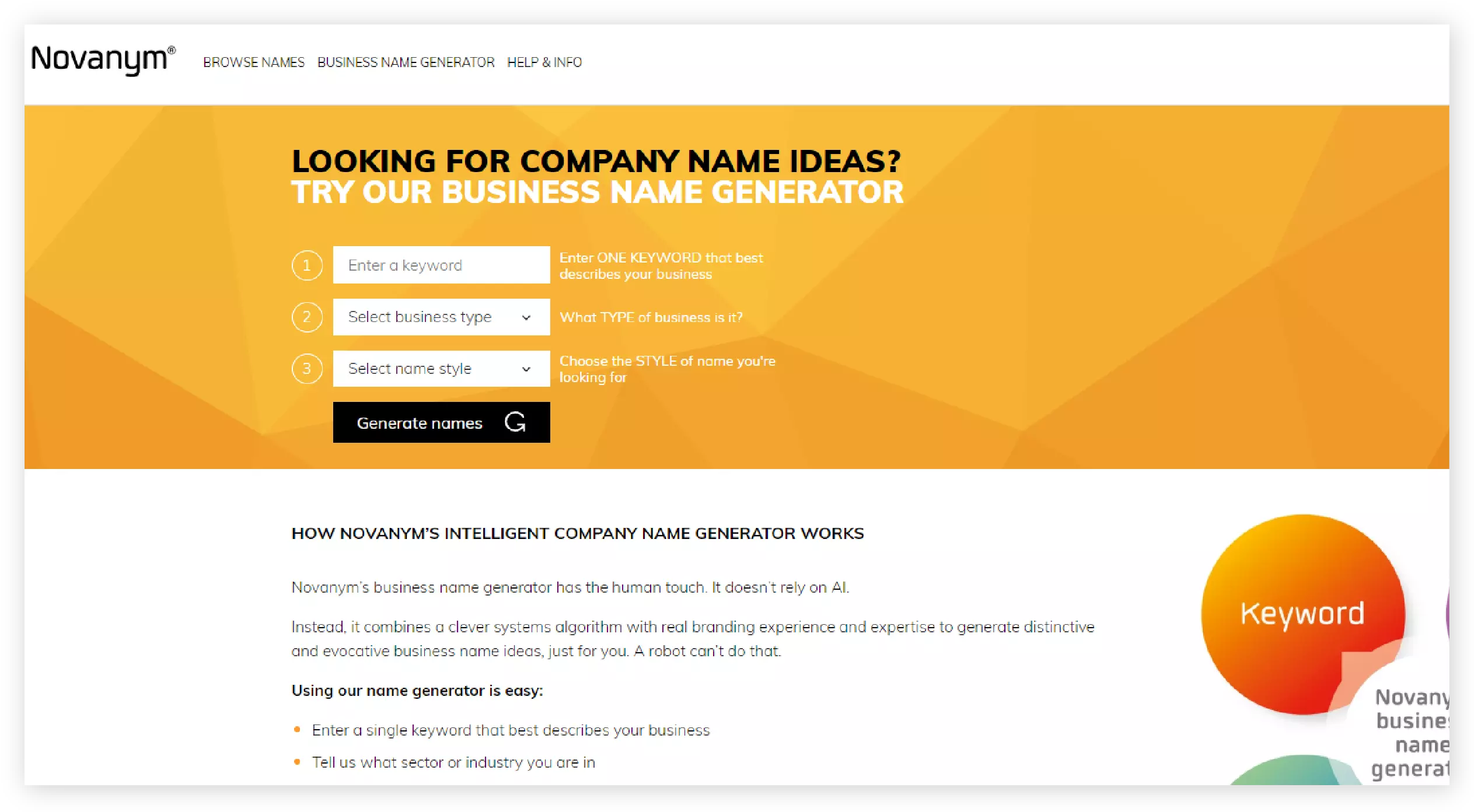 Although new pages can take 6 months or more to get their teeth into a search landscape they are targeting, Novanym was thankfully an established site in related landscapes.
Once the new page started to gather momentum, it went from strength to strength. All terms related to generator we were tracking started to go up in visibility two months after the page went live, and two months after that started to rocket into page 1.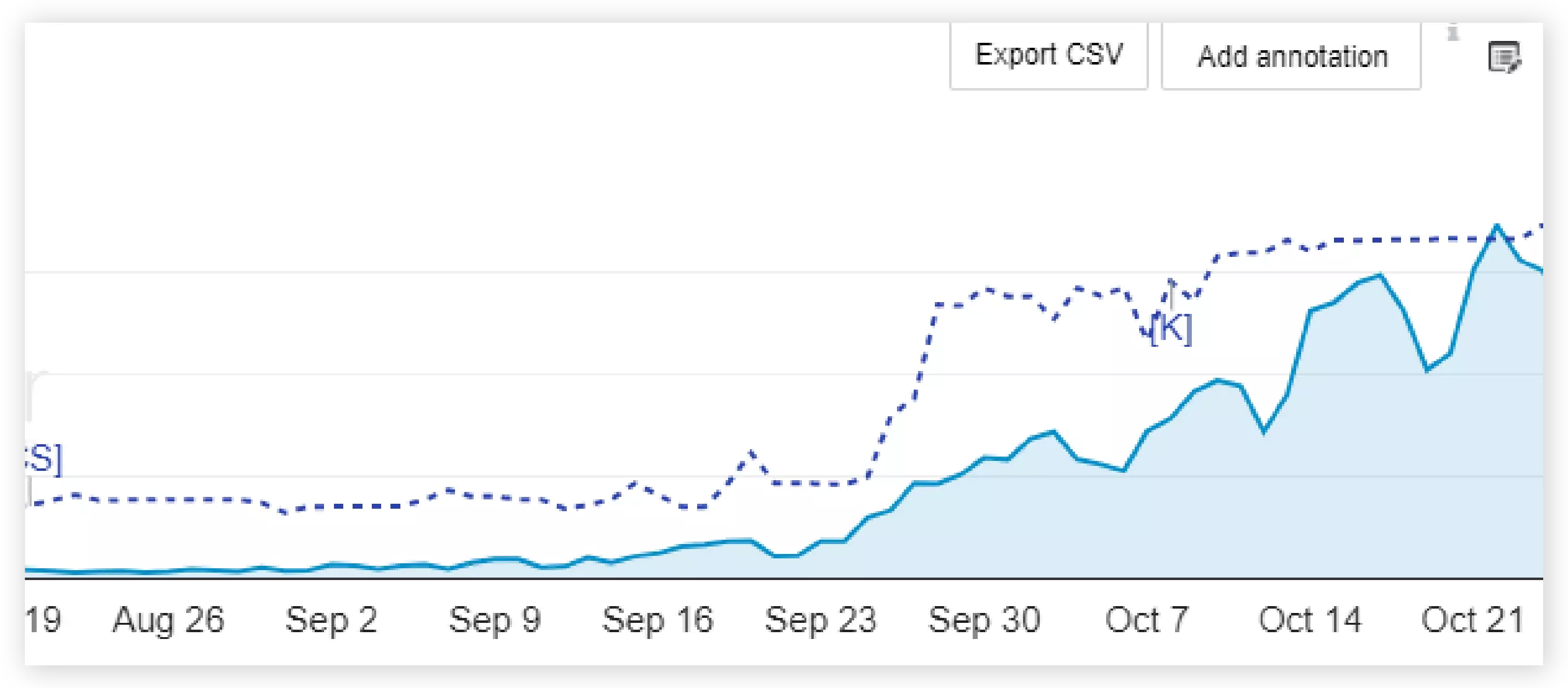 The Rankings
The two primary targeted terms, 'company name generator' and 'business name generator', went from ranking outside the top 100 of US's SERPs to ranking 7 and 6 respectively. In the UK's SERPs these have gone to 1 and 2 respectively.

Moreover, this has had a knock on effect for the key terms that started this new campaign, 'business name ideas', and these terms are now back on page 1. Filling a content gap not only improved the keywords in that gap but also made the site's authority for all terms related to this gap stronger.

The Traffic
Although at the time of writing this case study Novanym have not reached the heights they were once at (tens of thousands of users daily) they are climbing steadily back into that position – aided further by link-building and on-page optimisation campaigns. In fact, the next content gap has been pinpointed and plans are in place to fill it.
Most impressively, traffic is now improving from a wide landscape of keywords. While addressing the impact on 'business name ideas' searches, Go Up has ensured that Novanym now has the 'business name generator' terms on their horizon too – terms that have more than five times the monthly search volume. Their net is now wider and reaching users further up the branded-domain-name purchasing funnel.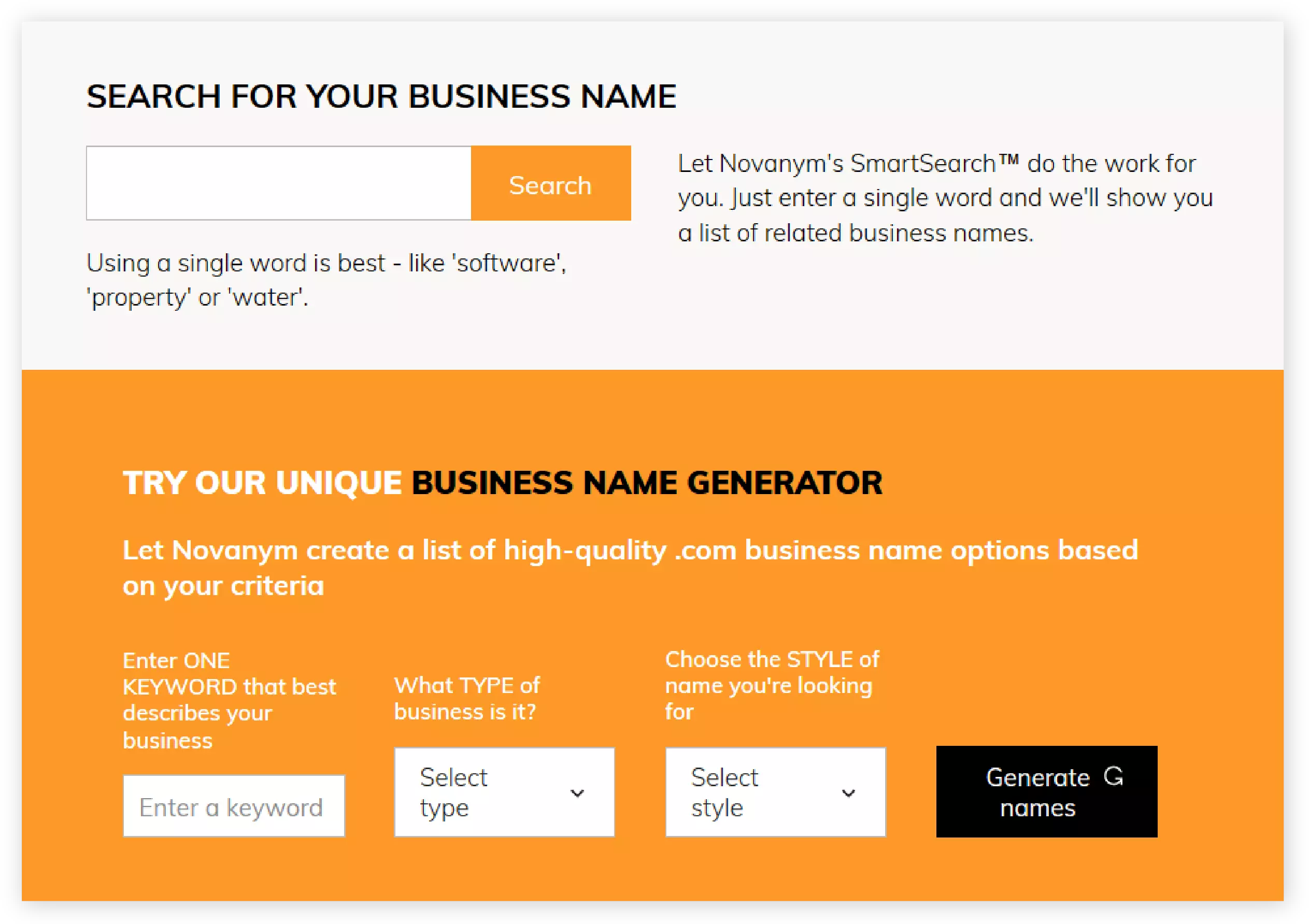 Call or send us an email today and we'll discuss how you could become our next success story.
Testimonials
"Working with GoUp is one of the best business decisions we've made. Within a few months of implementing a new optimisation strategy, Go Up's expertise and meticulous attention to detail resulted in a significant and sustained increase in organic traffic. They promised they would deliver, and that's what they did. We couldn't be happier with Go Up - they're a delight to work with and delivered beyond our expectations. They've been an important factor in the success of our business. "
Director
Let's start planning your project.
If you are interested in hearing about our services and what we can do to help your business, we would love to hear from you.