Rubies in the Rubble
Supplementing supermarket sales with online conversions
Campaign highlights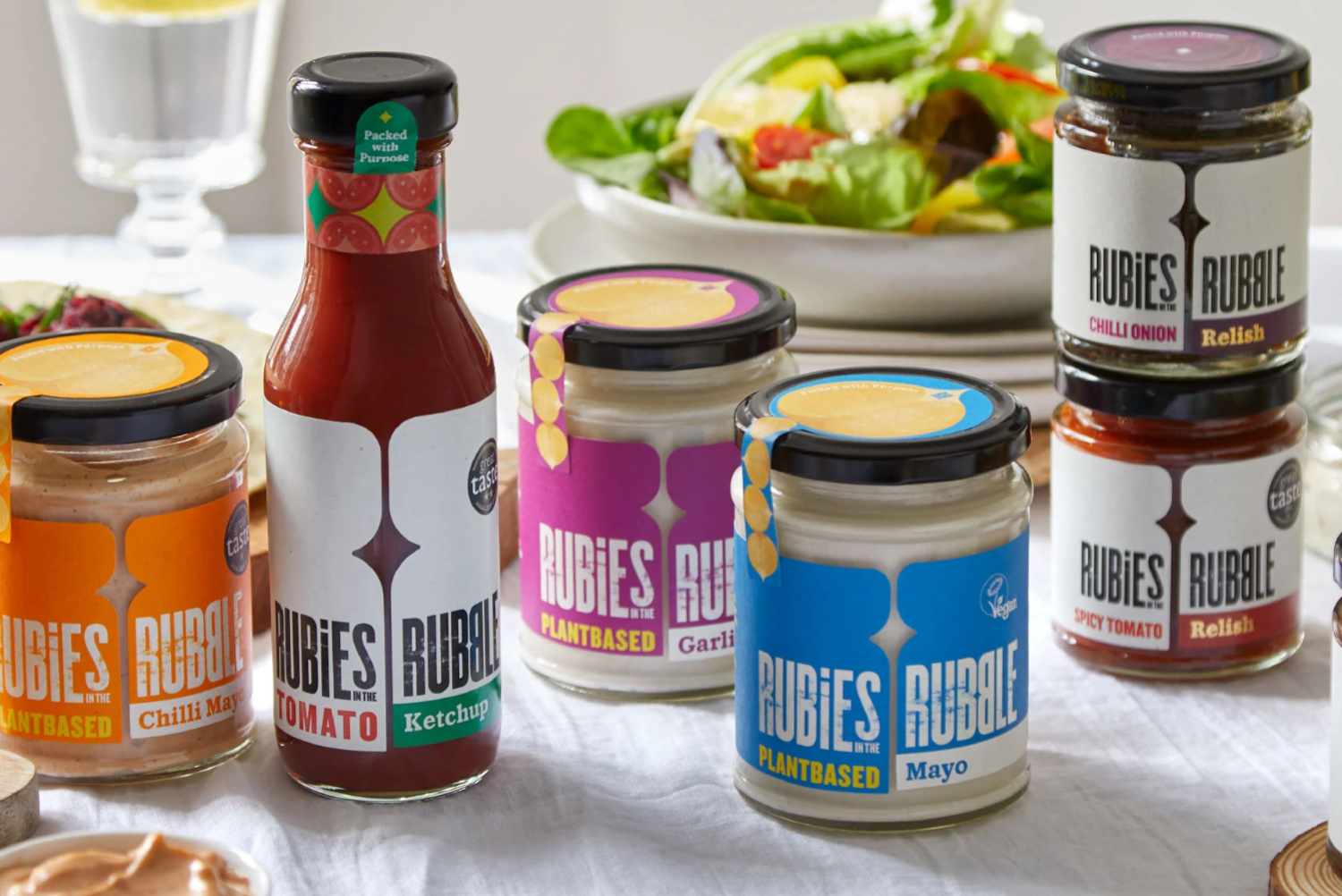 Highlights
CPM (cost per mille): £2.75 CPC: £0.08 CTR: 3.4%
Overall, the brand experienced their best click through rates to date and garnered cost effective reach.
---
The Brief
Go Up was tasked with supporting supermarket sales with additional online conversions. This was achieved by raising awareness and driving relevant traffic to key transactional pages using paid advertising.
To ensure goals were met, Go Up ran tandem campaigns as part of Rubies' ongoing paid social activity. The first, 'Condimentary Mayo', was focussed on conversions, and featured creative paid placements across social media. These placements enjoyed high engagement due to using low friction to conversion mechanics, such as swipe up features.
The second campaign, 'Veganishuary' focused on brand awareness, fuelled by the topicality of 'Veganuary' at the time, and encouraged customers to give Veganism a go for the good of the planet.
---
Campaign 1: Condimentary Mayo
The Solution
As a traffic and conversion campaign, the key performance indicators were CPC (cost per click) and CTR (click through rate).
Cost per click was well below the food and drink industry average, with Go Up achieving an average CPC of just £0.23.
CTR averages across industries on Facebook are all below 1%. Prior to Go Up optimisations the account average was 0.49% so achieving 3.4% was an incredible result.
iOS 14 conversion tracking issues were avoided by not relying on remarketing or lookalike audiences. In addition, Go Up compared pre-existing data against the final Shopify data, as opposed to relying on in-platform ads metrics. This was more easily tracked via UTM-tagging.
---
The Results
CPM (cost per mille): £2.75 CPC: £0.08 CTR: 3.4%
---
Campaign 2: 'Veganishuary'
The Solution
As a brand awareness and reach campaign, the key performance indicators were impressions and reach focused.
Technically split into 2 different campaigns, one optimising for awareness and the other reach, testing different optimisation methods.
£0.47 CPM is below both food and beverage industry as well as platform averages meaning that we were able to drive awareness/reach very cost effectively.
Estimated ad recall was measured specifically by reach focused campaigns, meaning a 10% ad recall per user was met.
---
The Results
CPM: £0.47
Overall, the brand experienced their best click through rates to date and garnered cost effective reach. The overwhelming success of both campaigns prompted an internal review into onsite customer journey, with the aim to maintain interest generated from active campaigns and reduce checkout abandonment.
Call or send us an email today and we'll discuss how you could become our next success story.
Testimonials
"Thanks for all your ongoing work with No.1 Living - it's been great speaking every other Friday and working so calmly and efficiently with Go Up! Here's to seeing No.1 Living climb up the rankings…"
Marketing Manager
"We chose Go Up as our SEO agency for a simple reason: they feature at the top of search results when you're googling London SEO agencies! They have backed this up by becoming a key partner for us and have delivered excellent results that have surpassed our own expectations – our number of organic visitors has grown by 219% since we started working with them. Great ability to combine an on-point strategy with quality service, we consider them to be a key part of the team."
Chief Operating Officer
"We recommend Go Up as a committed, motivated and effective search marketing agency. We have seen a considerable increase in organic traffic since the outset of the campaign. This has resulted in a significant increase in enquiries and sales."
Director
Let's start planning your project.
If you are interested in hearing about our services and what we can do to help your business, we would love to hear from you.